Neroli Essential Oil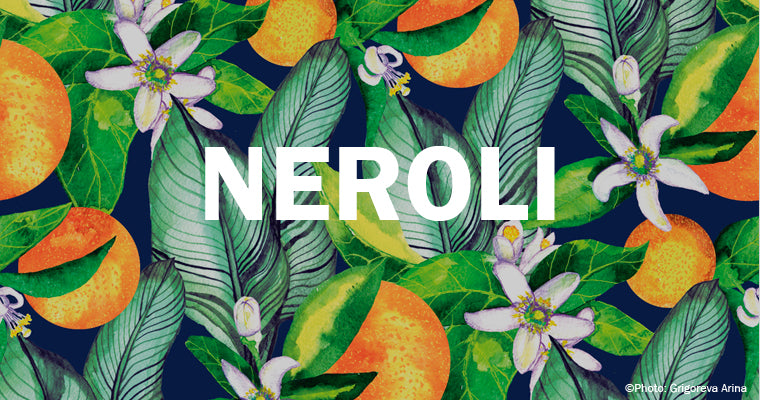 I love reading about the botanical ingredients I work with everyday. Not just about their therapeutic properties but also about their history and how they have been used throughout the ages.  Here's a little introduction to Neroli essential oil where I have included some interesting historical facts about the ingredient..
Neroli
Neroli oh Neroli.. a beautiful essential oil that has an exceptionally rich, bittersweet aroma with a peppery undertone. The essential oil is extracted from the fragrant flowers of the bitter orange tree, also known as the sour or seville orange tree. 
"Cool elegant & intense, it imparts a freshness to floral blends along with a great tenacity. Used in heavy Oriental blends as well as in citrus colognes, chypres and florals. It's suave strength and understated Sexuality make it a wonderful heart note for a man's fragrance."
- Mandy Aftel
The History of Neroli Essential Oil
Neroli is thought to have been named after Anne-Marie de la Tremoille, Princess of Neroli, near Rome. Who in the 17th Century introduced the oil to Italian society.  The Princess used the oil wherever possible - to scent her hair, bathwater and even on her gloves & stationary.
Once employed as a scent by the prostitutes of Madrid so they would be recognised by its aroma. On the other hand, the blossoms were worn as bridal headdress and carried as a bouquet, symbolising purity & virginity.
In 1709, the Italian perfumer J.M. Farina launched his blend of neroli, bergamot, lavender, lemon, petitgrain and rosemary onto an unsuspecting world, naming it 'Eau de Cologne'. The rest, as they say, is history.
The Benefits of Neroli Essential Oil
Neroli For The Emotions
For both the emotions and the skin neroli has a great balancing & calming quality. Before applying our Hammam Moisturising Serum or Original Beard Oil we advise to cup the oil in your hands and take a deep breath in. This will help to keep you calm and uplifted throughout the day. Neroli is infamous for helping to keep stress at bay.
Neroli For The Skin 
For skincare Neroli is sebum balancing, so is good for oily, dry or combination skin. It is calming and skin nourishing. The main benefit is that it is Cicatrisant, which means it is skin-healing, wound healing and cell regenerative. It will help rebuild healthier skin cells.
And if this isn't enough to interest you in Neroli, it's also well known for its subtle aphrodisiac qualities. For a night of romance & seduction it blends well with Jasmine, Ylang-Ylang, Rosemary, Sandalwood, Bergamot, Cedarwood or Frankincense.
Neroli is an expensive essential oil but well worth the investment. Use sparingly and enjoy!