Why Does Makers (hand) Balm Work So Well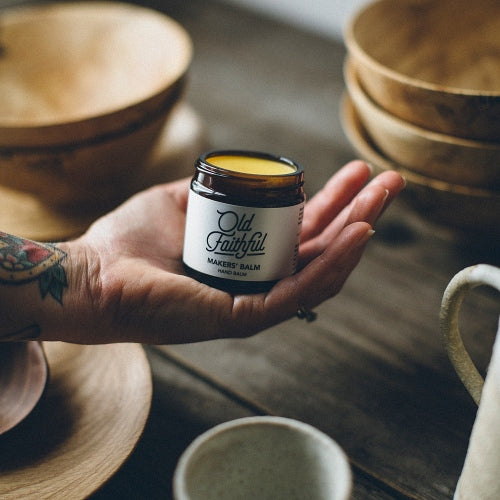 Making A Great Hand Balm 
Our Makers (hand) Balm is one of our best selling products which regularly receives excellent feedback and great comments from our customers. 
Feedback like..
______________________________________________________________________
"Makers Balm is the most amazing hand cream ever!" 
- Katie Robbins (@ceramicmagpie)  www.ktrobbinsceramics.com
"Makers balm is my absolute favourite, it smells incredible and has been a lifesaver whilst I've been renovating my new house. Had my jar over a year now, it lasts forever!" 
- Charlotte Knott (PR Manager Liberty)
"I find this hand balm excellent. I have tried many hand creams and balms in the past and this one is the best. I like gardening and wash my hands a lot and I find the balm very soothing and it heals minor sores very quickly. A very good product." 
- Rosina D
________________________________________________________________________
Customers often tell me that it only needs to be applied to their hands once to twice a day unlike many other creams that require application throughout the day to remain effective. Which means a 60ml jar usually lasts a year or longer.
I originally made the hand balm to help a ceramicist friend who was suffering badly with her hands, they were dry and cut and really sore. Karen was wearing rubber gloves to carry out many daily chores. After using the balm for about three weeks her hands were well enough to stop wearing the gloves. Two weeks later they were back to normal.  After a few tweaks to the formula and some more feedback from users I launched the hand balm as an Old Faithful product.
Many of you love the scent of Makers' Balm and these reviews just keep on coming. So why is this? Let's take a look at the product to help explain..
The Scent
The scent is created entirely from therapeutic essential oils and it falls mainly within the description of earthy. The Patchouli and Vetiver combination create it's earthy base with a hint of smokiness. Then there's the citrus element from the Bergamot and uplifting sprightliness from the wood, Elemi.  
Now let's look into the therapeutic actions of the essential oils..
The Essential Oils
Patchouli with it's strong, sweet and earthy aroma is best known in skincare for it's regenerating, disinfecting, moistening and cooling properties. It has traditionally been used to treat insect bites including poisonous insects and snake bites in Eastern medicine. It is anti-inflammatory and antiseptic which makes it effective for wounds, cuts and sores. It is also anti-fungal so good for those unpleasant nail infections.
Vetiver is an Indian grass, extracted from the root and known as 'The Oil of Tranquility'. It has a deep, earthy and slightly smoky aroma. Vetiver is antiseptic, it assists in strengthening the body's connective tissue, helps cuts & wounds heal and is used for arthritis, rheumatoid and muscular pain.
Bergamot famous for its presence in Earl Grey tea, is named after the Italian city of Bergamo in Lombardy, where the oil was first sold. Bergamot is a firm favourite with aromatherapists as it has so many uses and has an uplifting and calming aroma. It's cicatrisant and antiseptic properties make it great for treating acne, wounds, sores and various skin conditions. 
Elemi is a tropical tree native to the Philippines and neighbouring islands and has a long history of being used in skincare, it  has many of the properties of frankincense, to which it is related. Excellent for mature skin due to its rejuvenating (cicatrisant) and anti-aging qualities, it will help thinning skin. Elemi is also antiseptic and will help heal cuts, sores and chapped skin.     
As you can see.. all these essential oils have many beneficial properties and they all have the capacity to help skin conditions such as eczema, psoriasis and dermatitis. I find Bergamot is especially good for such uses. Skincare is just one of their many therapeutic uses which include respiratory conditions, emotional wellbeing and hormonal health.
The essential oils only make up a very small percentage of the Makers' Balm formula but these steam distilled plant extracts have a very powerful effect.
The Butters
Plant butters are highly saturated oils, their high saturation gives them their firm butter form. Butters are highly moisturising and protective so excellent for really dry, troublesome skin. We include 3 butters in our Makers' Balm. Shea Butter, Cocoa Butter and Mango Butter..
Shea Butter is a beautiful rich butter that protects the skin and eases skin conditions such as eczema. Shea is anti-inflammatory and aids rheumatism and arthritis, it helps cell regeneration and helps ease burns, rashes, scrapes and small wounds.
Cocoa Butter is a product of the esteemed Cacao plant which has many therapeutic properties. The Butter is hard saturated fat that is high in antioxidants and highly protective. It is popular as a treatment to prevent stretch marks on pregnant women. 
Mango Butter is a lovely hard and astringent butter, helping our Makers' Balm to absorb into the skin quickly. It is antioxidant, antifungal and anti-inflammatory. It also may contain vitamin C (the jury is still out on whether any oils can contain Vitamin C).
The Oils
Calendula oil is a macerated oil from the marigold flower. It is highly anti-inflammatory and famous for healing skin conditions, dry chapped skin and wounds. If you are purchasing some for yourself look for one that is more orange than yellow. This means it has a higher concentration of the extracted marigold properties.
Macadamia Nut oil has high levels of palmitoleic acid (20%) which is a building block lipid of the skin that reduces with age. It is an antimicrobial agent, protecting against cellular breakdown in wounds & abrasions. It contains antioxidants and can help to reduce scars. Find out more about Macadamia oil here
Red Carrot Root oil is another macerated oil, rich in carotenoids and provitamin A (retinol) compounds and vitamin B, C, D, E & F. High in antioxidants it is wound healing & assists in the formation of scar tissue, soothes itching & inflamed skin and claimed to be helpful for psoriasis & eczema.
Organic UK Beeswax
Beeswax is hard and helps protect our hands and retain moisture. Beeswax carries antiviral, anti-inflammatory, and antibacterial properties that help chapped skin and bacterial infections. 
As you can see, Makers' Balm is full of therapeutic unrefined botanical ingredients that are chosen to treat dry, chapped skin and help heal wounds, cuts and sores. This is what makes it excellent for hard working hands that are exposed to harsh environments. The balm also absorbs quickly, as long as you don't use too much. Only a very small amount is required.
Please feel free to ask any questions about our Makers' Balm or any other skincare or aromatherapy queries you have.
If you are interested in trying our hand balm for the first time why not subscribe to our newsletter and receive 10% off your first purchase.